Dr SM Balaji plays host to the Minister of Health, Republic of Seychelles
His Excellency, Hon'ble Jean-Paul Adam, Minister of Health, Republic of Seychelles, visited Balaji Dental and Craniofacial Hospital recently while on a visit to Chennai. The hospital is a super specialty referral center for patients from the Republic of Seychelles with craniofacial anomalies. Patients from the island nation have been successfully rehabilitated at the hospital for the last 25 years.
The minister was accompanied by Dr Loren Reginald, Special Advisor, Dr Danny Louange, CEO, Health Care Agency, Dr Kenneth Henriette, Director of Hospital Services, Dr Javier Rose, Consultant Pediatrician, Mr Marthy Vidot, Personal Assistant to Minister and Mr M Seshasai, Honorary Consul, Consulate of the Republic of Seychelles.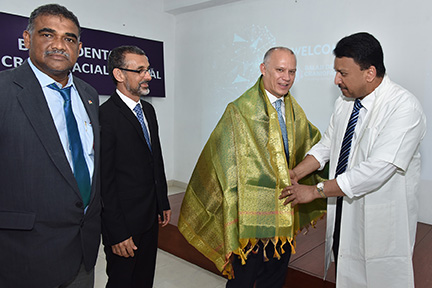 Guided tour of the hospital for the minister
Dr SM Balaji conducted a guided tour of the hospital premises for the distinguished guests. They were accompanied by Dr Preetha Balaji, Consultant, Oral and Maxillofacial Surgery and Dr Varsha Balaji, Consultant, Obstetrics and Gynecology. Dr SM Balaji explained the salient features of the hospital.
He showed them around the dental clinic, laboratory facilities, Pediatric ICU, inpatient wards and state of art operation theaters. Medical as well as paramedical staff at the hospital were introduced to the minister. He also met and spoke with some of the patients undergoing treatment at the hospital.
The minister expressed his appreciation at the wonderful services being provided by the hospital to patients from his nation.
Dr SM Balaji and the delegation held extensive talks regarding further strengthening of ties between the hospital and the island nation. The minister expressed his satisfaction at the successful visit to the hospital