Specialised Trauma Care Center
Whether the result of an accident or sports-related injury of the face or mouth, trauma can significantly change your appearance and can make breathing and eating difficult. Dr. S.M Balaji is an expert in treating facial fractures and can repair most of these injuries through the mouth, eliminating visible scars.
Injuries to the face, by their very nature, impart a high degree of emotional, as well as physical trauma to patients. The science and art of treating these injuries require special training involving a "hands on" experience and an understanding of how the treatment provided will influence the patient's long term function and appearance.
Facial trauma can range between minor injury to disfigurement that lasts a lifetime. The face is critical in communicating with others, so it is important to get the best treatment possible. In some cases, immediate surgery is needed to realign fractures before they heal incorrectly. Other injuries will have better outcomes if repairs are done after cuts and swellings have improved.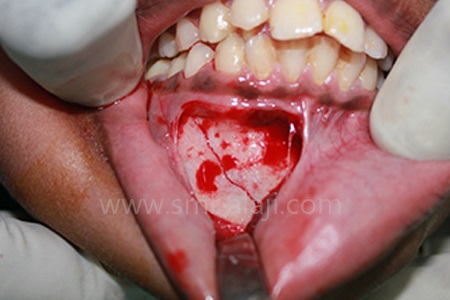 Fracture of the lower jaw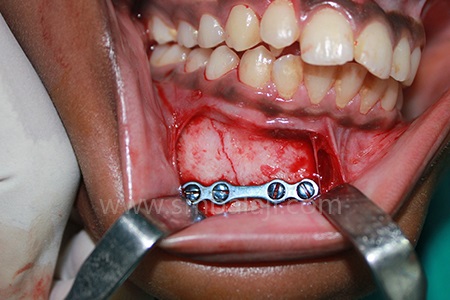 Fractured bone stabilized using bone plate
Pediatric facial trauma differs from adult injury because the face is not fully formed and future growth will be a factor in how the child heals and recovers. Certain types of trauma may cause a delay in the growth or further complicate recovery. Difficult cases require surgeons with great skill to make a repair that will grow with your child.
Immediate diagnosis and efficient treatment.
New technology, such as CT scans and 3D CBCT scans have improved surgeons' ability to evaluate and manage facial trauma. Balaji Dental and Craniofacial hospital uses the 3D Cone Beam CT (3D CBCT) Scan– the latest technology in Maxillofacial Imaging. This enables accurate and detailed imaging of facial fractures and that too with a much reduced radiation exposure than conventional CTs. With these modalities under a single roof here, we provide immediate diagnosis and efficient treatment.
Our twin operation theatres are equipped with ultra-modern equipments for the safety of our patients. We have an infection free zone in our operation theatres to cater to dental and facial surgery needs. We follow strict infection control measures and microbiological monitoring protocols.
Our Hospital have the latest and safest machines including advanced fiberoptic endoscope – a sophisticated anesthesia administration method. Some patients have very limited mouth opening either due to Craniofacial defects, very small jaws or retruded chins. Such patients cannot be subjected to general anesthesia in the traditional way. The flexible Fiberoptic Intubation Endoscope (FFI) is a boon in such instances.
FFI is a most powerful technique for efficient easy intubation of "difficult laryngoscopy" patients otherwise impossible to intubate during general anesthesia.