Dr SM Balaji invites Dr Vitomir Konstantinovic to his hospital
Dr Vitomir Konstantinovic, Professor and Chair, Department of Oral and Maxillofacial Surgery, University of Belgrade, Serbia was invited by Dr SM Balaji to visit his hospital during a visit to Chennai recently. Dr Konstantinovic, who is also the director of the Serbian Dental Chamber, was in Chennai as a part of a lecture tour.
A guided tour of the hospital facilities
Dr Konstantinovic was taken on a guided tour of the hospital by Dr SM Balaji. He met a patient with hemifacial microsomia. Dr SM Balaji explained the treatment plan to Dr Konstantinovic. He was also introduced to Dr Prashanti Ugandhar, Head, Department of Prosthodontics at the hospital. They had a discussion of the latest prosthodontic technology available at the hospital. It was explained to him that all the prosthodontic work in the hospital was fabricated at the state of art laboratory present in the hospital.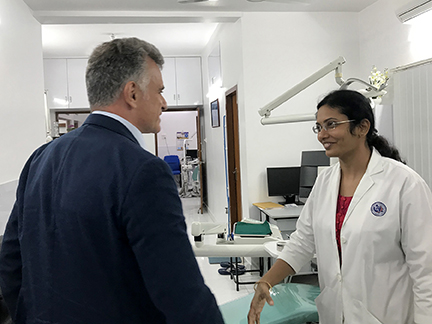 Ward rounds with Dr SM Balaji
Dr Konstantinovic later accompanied Dr SM Balaji on ward rounds and interacted with patients on the surgical floor of the hospital. The various surgical treatments offered at the hospital were explained to him and the technology that was available for rehabilitation of patients. It was explained to him that our hospital is a premium center for facial cosmetic surgery in India.
Dr Konstantinovic expressed his appreciation over the hospital visit to Dr SM Balaji. He said that the facilities available at the hospital including the level of disinfection and asepsis were on par with the best of facilities seen by him.