Patient born with a unilateral cleft lip, palate and alveolus deformity
The patient is a 3-month-old female infant from Ajmer in Rajasthan, India. She was born with a left-sided cleft lip, palate and alveolus deformity. Her upper lip was split because of the cleft lip.
There was a communication between the oral and nasal cavities through the roof of the mouth. This had devastated the parents. Cleft defects are the most common form of birth defects affecting newborns.
Hospital staff had provided extensive counseling for the family and educated them about the condition. Parents were most distressed by her feeding difficulties. Friends had informed them that they needed to approach a facial plastic surgeon.
Contact with parents of another child who had undergone cleft deformity repair previously
The hospital had referred the parents to the parents of another child who had been born with cleft deformity a few years ago. Parents immediately got in touch with them. They also met the child who had been born with a cleft defect. The child was now 6 years old and appeared normal with completely normal speech.
The parents were informed that Dr SM Balaji had operated on their daughter. They also informed that this surgery had been a little over five years ago. All their fears regarding the deformity affecting their child had been allayed over the years following cleft surgery. They said that their daughter had not faced any problems because of her cleft defect.
Parents immediately obtained contact information about our hospital and got in touch with our hospital manager. They had then been given an appointment to meet Dr SM Balaji for a consultation.
Center of excellence for cleft lip repair in the entire Southeast Asian region
Our hospital is a premier cleft lip surgery hospital in India. We are recognized as a center of excellence for cleft lip surgery by the International Cleft Lip and Palate Foundation (ICPF) of Japan.
We are the proud recipients of the prestigious 'Prof David Precious Award.' This was awarded in recognition of innovations developed by us for the rehabilitation of cleft patients. We are also an affiliate of the Dallas-based World Craniofacial Foundation (WCF).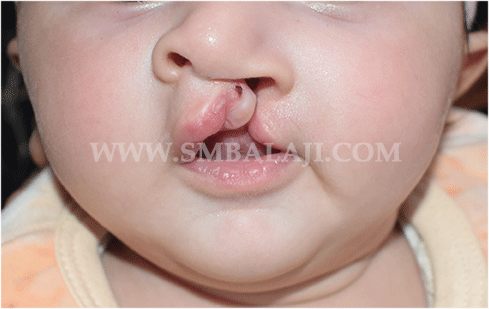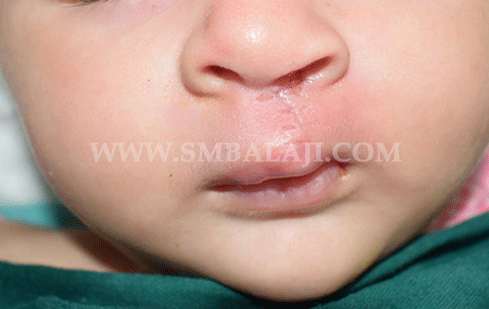 Initial presentation at our hospital for rehabilitation of her cleft lip defect
Dr SM Balaji, cleft repair surgeon, examined the patient. The patient had buckling of the columellar cartilage. There was a widened alar base defect and the floor of the nose was nonexistent.
The nasal sill was also absent on the left side. There was also a cleft alveolus defect. It was explained to them that modern surgical intervention would leave minimal discernable scars depending upon the skin condition.
They were reassured that the patient would lead a completely normal life. The surgical schedule was explained to them in detail. Importance of adhering to the timetable was explained to them.
Correct time schedule for performing each step of cleft deformity repair
They were informed that cleft lip surgery needed to be done at 3 months of age. This would be followed by cleft palate surgery at 8-10 months of age. Cleft alveolus repair may be needed between 4-5 years of age. This will be performed with rh-BMP if there is a large alveolar defect.
Pharyngoplasty may also be required if the patient develops speech problems. Speech therapy would also be needed in case of issues with speech.
Meticulous treatment planning was performed for the patient. Thorough biometric studies were ordered and a projection of growth was predicted for the reconstruction and surrounding structures.
A modified Millard's cleft lip surgery would be performed for repair of the patient's cleft lip. This planning protocol would ensure the best possible symmetric and functional repair for the patient. Parents expressed understanding and consented to surgery.
Successful repair and reconstruction of unilateral lip and nasal deformities
Under general anesthesia, an incision was made along the philtrum and dissected down to the subcutaneous tissues. Attention was first turned to the nasal floor defect. This was then reconstructed.
A C-flap was raised for recreation of the nasal sill. A surgical loupe was used to visualize the surgical site during the entire procedure.
It was decided to utilize a three-layer closure of skin, subcutaneous tissue and muscle to obtain the best possible esthetic results. There was good recreation of the vermillion, philtral column and orbicularis oris. Nasal floor recreation resulted in raising of the alar base. Fine 4-0 Vicryl sutures were utilized for closure of the cleft defect.
Successful postoperative healing of cleft defect with optimal results
By the seventh day following surgery, there was just minimal scarring at the site of the surgical repair. The patient had developed a good suckling reflex following surgery and began to feed well, gaining weight. Establishment of symmetry of the lips results in pleasing facial esthetics. Parents were very happy with the results.
It was explained to the parents that this was just the first step in the long road to rehabilitation for the patient. They expressed complete understanding of this and were committed to sticking to the surgical schedule that had been provided to them.