This is a case of a 65 year old male who approached us with a desire to replace his missing teeth with dental implants. He gives a history of long standing periodontal pathology 5 years ago, due to which he had to get all his lower teeth and few of his upper teeth extracted elsewhere. Since then, he has been using removable dentures to replace his missing teeth.
He seemed to be a reputed politician who is in a position to constantly communicate with his fellow members. Having said that, he feels that he is not able to convey his message and commands effectively to his team due to the insecurity of wearing dentures. Hence the he wanted to go for a fixed option that can restore his confidence.
Patient gives a medical history of taking medication for diabetes and hypertension for the past 10 years.
EXAMINATION OF THE PATIENT
On clinical examination, most of his teeth were missing with only afew teeth in the upper jaw left. No pathological findings seen intra-orally.
On radiological examination, OPG taken shows missing teeth in the upper and lower jaw. The bone height in the both the jaws were also sufficient enough to go for a fixed teeth replacement option.
Blood investigation revealed blood glucose level slightly over the normal range. His blood pressure was within the normal range.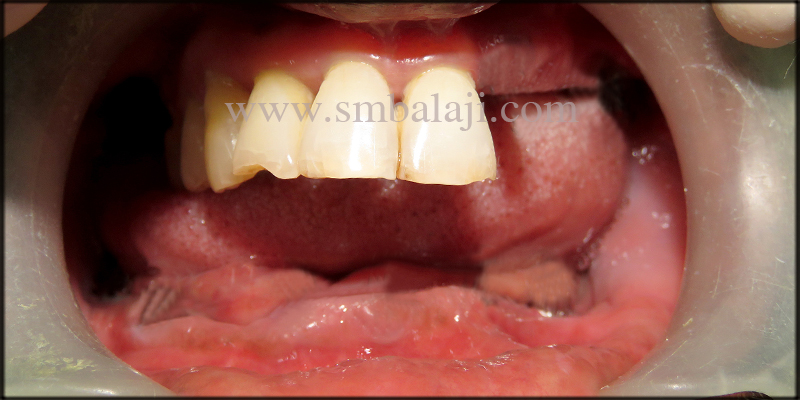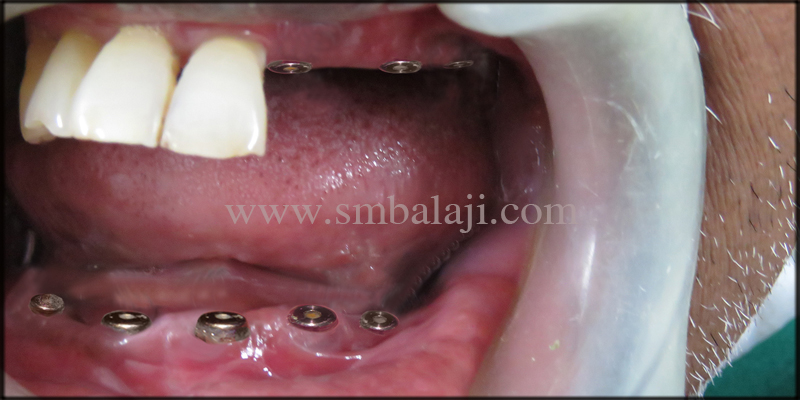 After thorough examination and considering his need and social status, Dr.SM Balaji planned to place dental implants at the relative site under local anesthesia, later followed by fixed prosthesis onto the implants. The surgical procedure was clearly explained to him. Patient's consent was obtained.
Under local anesthesia, Dr.SM Balaji incised and elevated the gum tissues exposing the underlying upper and lower jaw bone. After a sequence of drilling protocol, dental implants of perfect size were fixed in the jaw bone with stability. Finally, the gum tissues were approximated with absorbable suture.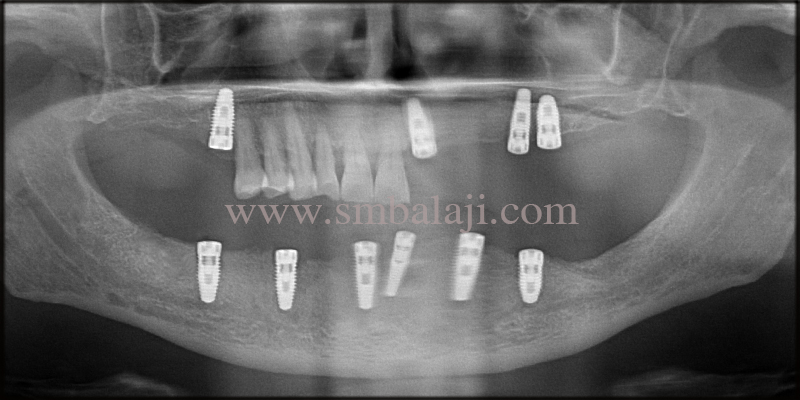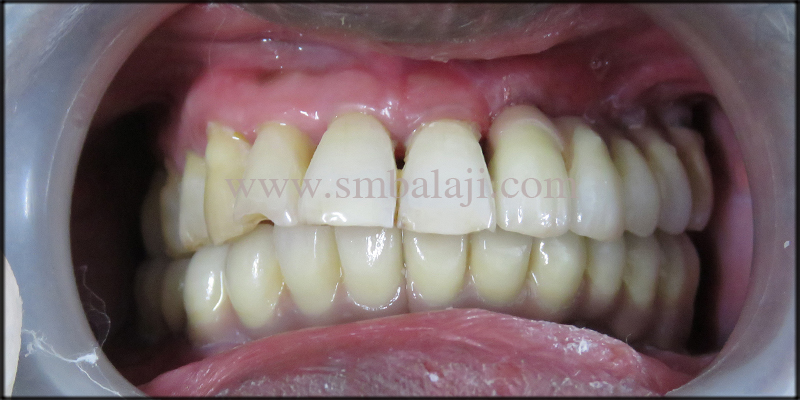 He was asked to report after 3 months for placement of the final prosthesis as the dental implants require sufficient time to osseointegrate with the jaw bone. Post oral care instructions were briefed. Meanwhile a lightweight temporary prosthesis were given to replace the missing teeth in the upper and lower jaw for the time being.
He came back after 5 months for the final procedure. Post-operative OPG taken shows well positioned dental implants in integration with the surrounding jaw bone. Hence final measurements were taken. After a few trial procedures, the final prosthesis was fixed onto the dental implants. He felt an immediate improvement in his speech. There was an instant boost of confidence in the patient. He was very happy and uplifted with the treatment outcome. He is on a regular follow- up.