Dental Implants with Bone Grafts
Once teeth are extracted, there is gradual bone loss in that region of the jaw. When the teeth have been missing for a long time, bone loss causes a decrease in the height of teeth bearing bone. When teeth are replaced by dentures that are not supported by bone, even more bone loss occurs. Hence, dental implant anchored to the bone is the best option for replacing lost teeth. An implant is a small titanium screw that can be inserted into the jaw bone to mimic the root of the teeth. Titanium can fuse with the bone and thereby provide stability and support as the root of the teeth. Over this screw, a ceramic tooth structure called crown is fixed. The implant and crown appears and functions like natural tooth.
Implants provide patients with several benefits, including improved oral health, appearance, speech, convenience, durability and ability to eat.
Though implant is the best option, there is a vital constraint. The tooth bearing jaw bone needs to be of adequate height, width and density in order for the implant treatment to be a success. If bone is insufficient, there are many treatment options to improve the bone and to make it ideal for the implant to succeed.
The bone-deficient area of the jaw bone can be strengthened using bone grafts. Bone from other bone-dense regions of the jaw or from rib can be harvested and added to the existing deficient jaw bone to increase the quantity.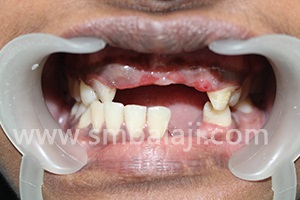 A young girl lost multiple teeth in a vehicular accident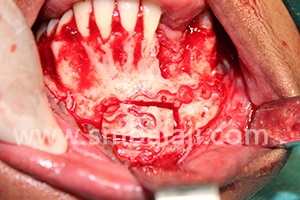 Bone plates that were fixed to treat the jaw bone fracture removed and bone graft harvested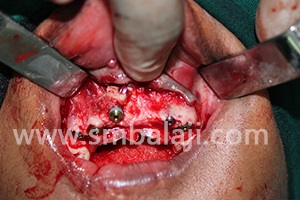 Harvested graft used to strengthen bone in the upper jaw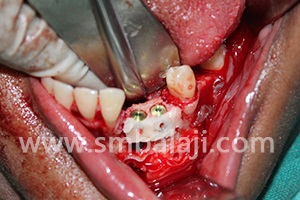 Bone graft placed in deficient region in lower jaw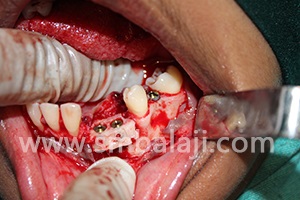 Bone graft and implants placed in lower jaw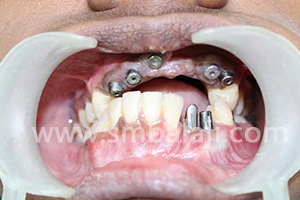 Abutments fixed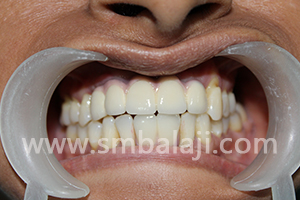 prosthetic rehabilitation completed with ceramic crowns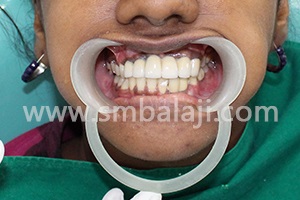 After complete treatment